Star Wars: Episode IX Will Be Filmed In 65mm—Here's What That Means
As you may or may not know, most movies these days shoot digitally, while others still shoot on good ol' 35mm. For instance, The Force Awakens and upcoming Episode VIII were both filmed on 35mm.
So what exactly does this mean for Episode IX? The third chapter of the new Star Wars trilogy will actually be shot on 65mm, says Kodak.
If done properly, shooting on film can create a visual quality much greater than that of digital capture. 65mm film will allow Episode IX director Colin Trevorrow to work with larger frames of higher quality, like he did in part for 2015's Jurassic World. Essentially, the high-res format will make the film clearer and more detailed, even hyper-realistic. Honestly, all we want is for BB-8 to be as real as possible, so this is excellent news.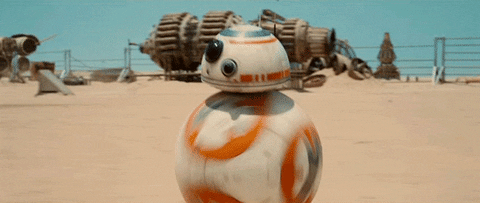 Since Kodak has added processing facilities for large format film to their U.K. locations, many upcoming films will be adopting large format, including Dunkirk, so all you Harry Styles fans will get to see him in real-life detail. Steve Overman, chief marketing officer and president of Kodak's consumer and film division, says 65mm film will make movies "memorable" with "lasting visual quality."
Trevorrow himself said at a Sundance panel early this year, "The violinist [at a symphony] is going to choose the best possible violin, of course they will. I choose to shoot with the best possible violin."
Not only does Trevorrow want the best for the ninth Star Wars film, but he has also considered shooting some of it in space. No, seriously—the films have been shot far, far away in places like Iceland and Tunisia, but Trevorrow said at the same Sundance panel that he would love to take IMAX film to actual space for Episode IX. 
The stakes are clearly high for the franchise, and we can only hope that ambitious director Colin Trevorrow's ideas aren't too out of this world, as to not be achievable. Episode VIII is set to premiere on December 15 2017, while Trevorrow's Episode IX will be in theatres in May 2019.